---
The Queens Own Royal West Kent Regiment
Major C H Stigand
---
---
Major C H STIGAND, Queens Own Royal West Kent Regiment.
AWARDS: OBE, Egypt - Order of the Nile - 3rd Class
---
London Gazette 4th September 1915.
War Office, 4th September, 1915. REGULAR FORCES.
The under mentioned Captains to be Majors. Dated 1st September, 1915
Royal West Kent Regiment - C H STIGAND
London Gazette 29th May 1917.
War Office, May, 1917. The following Despatch has been received by the Secretary of State for War from H.B.M.'s High Commissioner for Egypt covering a Despatch from the Acting Sirdar and Governor-General of the Sudan relative to the military operations in Darfur from the occupation of El Fasher to the conclusion of hostilities :
The names of the following officers, non-commissioned officers, and men, however, have been brought specially to my notice for exceptional good work:
LINES OF COMMUNICATIONS. - Transport.

Major C. H. Stigand, Royal West Kent Regiment.
London Gazette 8th April 1919.
The KING has been pleased to give and grant unto the under mentioned Officers His Majesty's Royal licence and authority to wear the Insignia of the Order of the Nile of the Classes indicated against their respective names, which Decorations have been conferred upon them by His Highness the Sultan of Egypt in recognition of valuable services rendered by them:
Third Class - Major Chauncy Hugh Stigand, Royal West Kent Regiment.
---
BONHAMS AUCTION 28th April 2010.
Continue?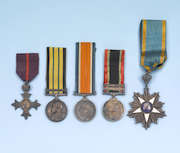 A Great War O.B.E. group of five to Major C.H.Stigand, Royal West Kent Regiment attached Egyptian Army,
The Most Excellent Order of the British Empire, O.B.E., 1st type Military Division; Africa General Service 1902-56, one bar, Somaliland 1901, engraved (Lieut C.H.Stigand, R.W.Kent R.); British War Medal (Major.C.H.Stigand.); Khedive's Sudan Medal 1910, two bars mounted on reverse side, Lau Nuer, Aliab Dinka, unnamed as issued; Egypt, Order of the Nile, Commander's neck badge, in silver, silver-gilt and enamel. The BWM a slightly later issue (see footnote) generally toned throughout, good very fine. (Lot)
Sold for £5,875 inclusive of Buyer's Premium

Footnote:
O.B.E. London Gazette 3.6.1919.
M.I.D. London Gazette 29.5.1917.
Order of the Nile. London Gazette 8.4.1919.

Major Chauncey Hugh Stigand was born at Boulogne-sur-Mer on 25th Ocober 1877, and was educated at Radley as well as a number of crammers. He joined the Warwickshire Militia on 4th January 1899, and was then commissioned into the Royal West Kent Regiment. He did not see service during the Boer War but joined the 1st Battalion of his regiment in Burma whence, after some of the men were convicted of a gang-rape, it was transferred to Aden, then regarded as a punishment station.

At the end of 1900 he went to Northern Somalia and was ordered to join a force under Colonel Swayne the local police commandant. The prime aim to capture Mohamed Abdullah bin Hassan "The Mad Mullah" who successfully evaded the British. Stigand sailed to Berbera, with his camel Tari and continued 100 miles south-west to Hargeisa where he took command of A Company of the 1st Somali Field Force. His first action was at Fardiddin on 17th July 1901 and although the Dervishes were heavily defeated the leader escaped. Stigand earned an MID. Colonel Swayne's report praised Stigand " Lt Stigand's company which was on the extreme right, presently out-flanked the enemy and compelled him to retire. The Dervishes lost so heavily that the retirement became a rout... the leading company under Lt Stigand assisted in the pursuit, wheeing round from the right flank". Later it was claimed that Stigand, accompanied by a single Somali scout, had forged ahead of his men and shot two of the Mullah's bodyguards.

The Mullah never reached his objective of Berbera and the expedition ended inconclusively. Stigand returned to Aden and had a bad attack of the fever. He returned to England on sick-leave, his request to join Swayne's second expedition against the Mullah having been refused on medical grounds.

Following his leave and a course at Hythe he was seconded to the 1st Central Africa Battalion King's African Rifles in Nyasaland. Despite regimental duties he did much big-game hunting and study of flora and fauna. In 1904 in conjunction with D.D.Lyell he wrote his first book "Central African Game and its Spoor".

In 1905 he was gored by a rhinoceros, and at the end of the same year was mauled by a lion and had to return to England for treatment. He also became a Fellow of the Geographical Society and the Zoological Society.

Between 1905 and 1908 he carried out much exploration and rejoined his regiment in 1909. Less than a year had passed and he was back in Africa. Under an agreement between Great Britain and Belgium an area of Mongolla Province in the Sudan known as the Lado Enclave, reverted to Anglo-Egyptian rule on the death of King Leopold. Sir Reginald Wingate (Sirdar of the Egyptian Army and Governor-General of the Sudan) had noticed Stigand and arranged his appointment to administer this remote district. This meant a secondment to the Egyptian Army under contract to the Khedive. Stigand acquired much expereince and he produced his most authoratative work "Administration in Tropical Africa".

When WW1 began he sought permission to return to his Regiment but the Governor General refused such a request. This being that if all Officers left the Egyptian Army and the Sudan administration would suffer terribly. He was therefore confined to internal security operations within the Sudan and was consequently MID twice. In 1916 he was appointed Senior Inspector Upper Nile Province and this gave him the chance to explore remote areas between the Nile and the Abyssinian Highlands. He was awarded the OBE for his wartime service.

He married Nancy Yulee Neff of Washington DC in 1913 despite strict but unnoficial rules that Officers working in inaccessible parts of the Sudan were not supposed to.

He was appointed Governor of Mongolla Province in February 1919. At the end of October 1919 a group of the Aliab Dinka attacked a police-post south of Bor on the White Nile killing eight policemen. The trouble consequently spread and Stigand sought to resolve it with a few companies of the Equitorial Battalion, a locally recruited unit of the Egyptian Army. Owing to a shortage of Officers he accompanied one of the patrols himself. The column had already been attacked at night and there were a few casualties inflicted when on the 8th December in the early morning it was ambushed in long grass by several hundred Aliab Dinka, Stigand was killed along with 2 Officers and 24 Other Ranks and carriers. The four surviving Officers rallied their companies and drove off the enemy. The senior survivor Bimbashi (Major) Roberts VC, wrote to Stigand's wife "Personally I was at the head of the left flank guard and did not see Stigand Bey fall, but Bimbashi Kent-Lemon, who was at the head of the right flank guard, saw him with his rifle to his shoulder firing as hard as he could... No one I can find in the battalion actually saw him killed but it must have been within the first few minutes.... from the spear wound in his chest he must have died instantly and suffered no pain".

He was buried on the bank of the White Nile at Tombe and was marked by a pile of stones brought from his home at Kajo Kaji at his wife's request. He is further commemorated on the Khartoum War Cemetry.

The lot comes with box for OBE, BWM and Order of the Nile, and correspondence from the War Office in September 1931 from Mrs Barrington Moore (nee Stigand), asking for the issue of WW1 Medals, his entitlement was only a British War Medal but she had been expecting a BWM and Victory Medal pair, the War Office letter confirms this. The lot includes a uniform riband bar showing a Victory Medal with MID oakleaf, as well as a prize medal awarded to him in March 1899 from E.Sandow for Best Development, and two prize medals awarded to his sister Helen M.Stigand.

The Medal Index Card shows award of the BWM but also the "Sultan's Sudan Medal 1910" with the two bars. This was filled in when his widow applied for the medals as the reverse has her new married name and home address on the reverse.
---
This page was last updated on 07-Jun-2011.
Copyright © 2008 Janet & Richard Mason